Leadership Essentials Course
دورة القيادة الإدارية الفعّالة
USD 106
USD 53

Duration
02:9:36 hours

Access Time
Lifetime


Language
Arabic

Resources
(1) Skill Level
( General - Specialized )
About the instructor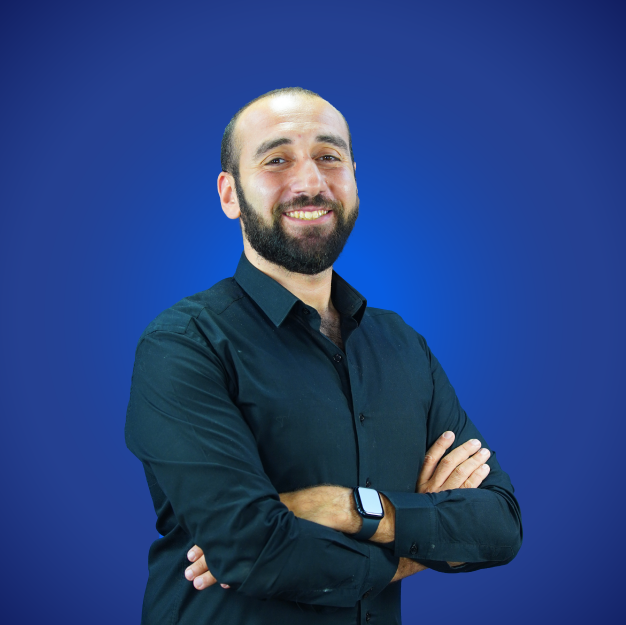 Managing Director of Ajax Consulting
Bachelor of Electrical Engineering
ICF Certified Coach
Corporate Governance Consultant
A dynamic force in the world of business and personal development. As a certified Positive Psychology Coach from the International Coaching Federation (ICF), he knows how to unlock the potential in individuals and organizations alike. With a passion for project management and storytelling in presentations, Ahmad has helped numerous companies in Egypt and the Gulf fine-tune their practices and achieve better results.

Ahmad is the Co-founder and Chief Business Officer of ANF (Al-Ahram For Non-Woven Fabrics), the first Spunlace Non Woven Fabrics Manufacturer in Africa and the Middle East. He is also the Managing Director of Ajax Business Solutions Company, specializing in Losses Elimination Consulting, & Project Management. Whether he's helping CEOs and Senior Managers or startup owners, Ahmad is an expert in delivering stunning speeches and crafting powerful presentations that leave a lasting impact.

Ahmad's engineering background as a Telecommunications Engineer from Alexandria University, combined with his 14+ years of experience as a professional Trainer and Consultant in the fields of Soft Skills and Business Skills, make him a go-to person in the field of public speaking and storytelling. He has released numerous training programs on different courses, including Mastering Storytelling in Presentations, Project Management Fundamentals, Process Improvement Tools, Value Stream Mapping, and Fundraising Fundamentals for NGOs/NPOs.

Ahmad's skills as a Certified Positive Psychology Coach from the ICF have given him the tools to help individuals and organizations reach their maximum potential. He has also held various roles in Operations Management and Projects Management, including working as Projects Manager for Procter & Gamble Dry Laundry, Home Care, and Warehousing Projects, and as a manufacturing leader for P&G Egypt Dry Laundry Packing lines.

When you work with Ahmad, you'll benefit from his extensive experience in Consulting, Project Management, and Training. His ability to help organizations reduce losses and improve productivity, combined with his passion for storytelling and public speaking, make him a valuable asset to any team. If you're ready to take your business or personal development to the next level, Ahmad Aly Eldabaa is the person you want by your side
Managerial leadership is the process of inspiring, guiding, and motivating others to achieve shared goals. It is a necessary skill for both managers and employees, helping them accomplish tasks and succeed.
The goal of an effective management leadership course is to provide participants with the skills and knowledge necessary to effectively lead others. The course covers a wide range of topics, including:
Basics of leadership: What is leadership? And what are the basic skills for effective leadership?
Building trust and respect: How to build trust and respect between you and others
Effective communication: How to communicate effectively with others
Decision-making: How to make good decisions
Problem-solving: How to solve problems effectively
Motivating others: How to motivate others to achieve their goals
The Effective Management Leadership Course targets a wide range of participants, including:
Managers: Looking to improve their leadership skills.
Employees: Those who wish to develop leadership skills.
Entrepreneurs: Those who wish to develop leadership skills.
You Will Learn
Key leadership principles and their real-world applications.
Effective communication techniques to convey your vision and goals.
Strategies for building and leading high-performing teams.
Problem-solving skills to address leadership challenges.
The ability to adapt your leadership style to different situations.
Aspiring leaders looking to enhance their leadership skills.
Professionals seeking to advance their careers by becoming effective leaders.
Anyone interested in understanding the fundamentals of leadership and its practical applications.
Training Program Name As In Certificate
Leadership Essentials Course
Created at: 2023-09-12 12:26:17
Updated at: 2023-12-11 18:04:40
A team of instructors who are the best in their fields
The continuous development of our educational materials
Lifetime access for the courses that you purchase
Evaluate yourself through a test that you can take after each level in
Easy communication between you and the instructors directly through your account
We have presence in more than 22 countries in the Middle East and North Africa
Our content is provided in the Arabic language with an easy-to-use platform
A team of customer services who are working 24/7
Lowest cost and highest quality of supervised educational materials
More than one accreditation from local and international education institutions